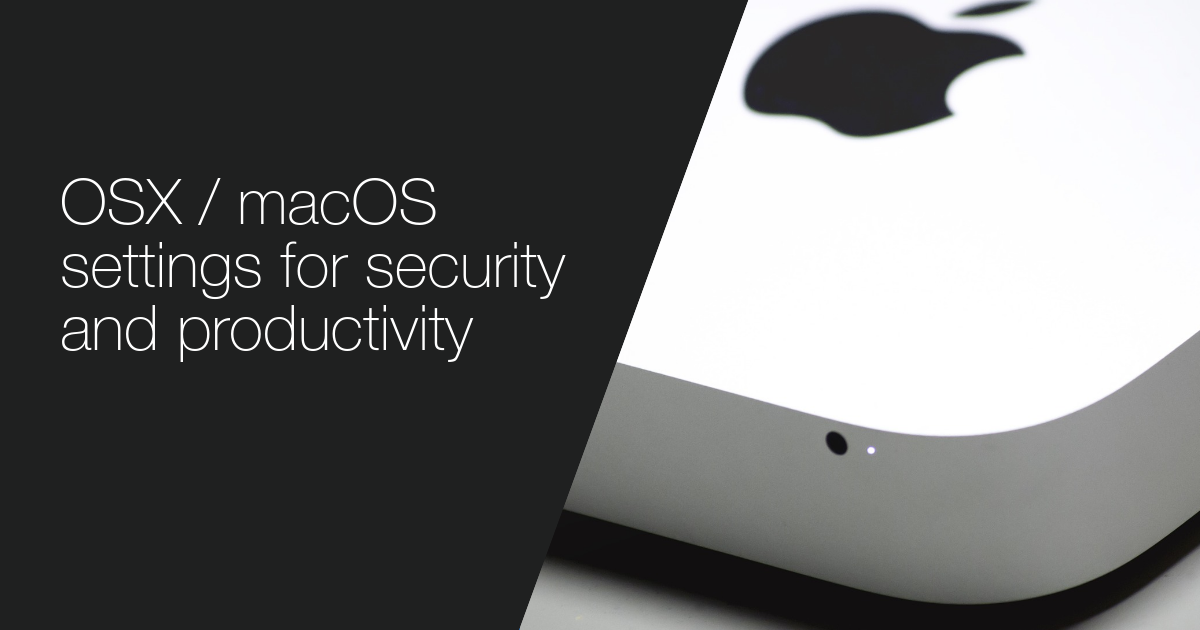 I was pretty impressed that my previous OSX install had served me for 4 years of heavy software development and daily personal use.
But a time has come for a fresh system reinstall. During the setup, I had some troubles remembering all useful system settings and tweaks I've made, so here's the list for my future reference, and possible use for other power users.
Apps
Utility Apps
Security Apps
Console tools
Preferences
System Preferences
Security & Privacy

FileVault - enable full-disk encryption

Date & Time

Display the time with seconds
Use a 24-hour clock
Show day of the week
Show date

Keyboard

Keyboard

Key Repeat - Fast
Delay Until Repeat - Short
Use all F1, F2, etc. keys as standard function keys

You will need to hold Fn to use brightness/volume controls, but you can bind anything to function keys

Text

Disable all the auto-correct crap
Disable accents menu on key hold, run: defaults write -g ApplePressAndHoldEnabled -bool false

Dock

Automatically hide and show the Dock - I use keys most of the time to change apps

General

Use dark menu bar and Dock

Mouse
Accessibility

Enable zoom on option+mousewhell

Display

Disable "automatically adjust brightness"

Mission Control

Prevent automatic desktops rearrangement preferences
Finder Preferences
Remove unused things from the sidebar
Advanced
TextEdit Preferences
Preferences

Plain Text - make it like good old notepad

copy & paste to get rid of text formatting
Digging deeper
Here are a few tutorials for tweaking hidden system settings. Go through them and enable those you find suitable.
OSX for hackers settings
A great set of ~100 settings for power users:
Security guides
Complete guide on how to make MacOS more secure:
General Internet security guide:
Simple things accesible from system preferences:
Disable macOS services calling to Cupertino:
Block malicious domains
The list contains a huge collection of tracking / malicious / ad-network internet addresses. Put them inside your /etc/hosts system file to block them on DNS level.
Other references
https://github.com/nikitavoloboev/my-mac-os/